So, it's been a lousy week at work. The usual story, really. Boss gives girl a hassle, girl wants to stab boss's eyes out with sharp pointy objects, girl actually has sharp pointy objects (ie:Weapons of choice=knitting needles), but girl doesn't want to ruin her lovely bamboo needles with her boss's possibly nasty, disease-infested blood so girl is forced to sit and suffer. Thank God that I work the night shift because that meant that I could knit off some of my steam,which really is probably the only thing that saved me from walking out of my job the next morning screaming and missing a few patches of hair! But enough about work. I went to knit nite on both Wednesday and Thursday this past week (yes, I needed that much time to de-stress) and naturally had a blast. I was good too, only buying a skein of yarn to knit up a quick pair of fingerless
gloves
for my Bro-in-law for Xmas and yet another cable needle seeing as I lost the set of three that I'd bought the time before. It was a lot of fun though, and I met some really nice ladies on Thursday. I even managed to capture the elusive Eva on film. See?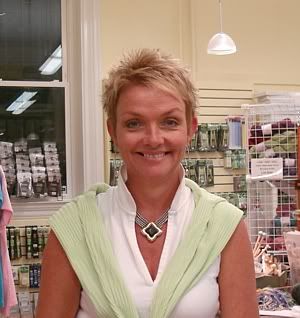 There she is! Granted I had to do it at the end of the night when I could catch her by surprise, but I still managed it. Here's another moment from Knit Nite.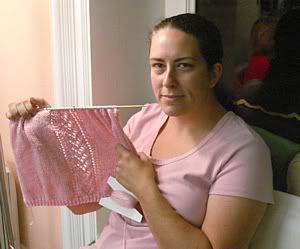 That would be one of my knitting partners in crime, SIL Allison. Isn't that lace panel pretty? She's knitting the cardigan for her mom for some reason or another and well, I think the lady'll love it though Allison seems to have some doubts about it.
I did manage to pick out a bunch of yarn that I want to buy next week though (after I get paid of course! ;) ), and already have projects in mind, but currently the yarn I most covet is
Plymouth Yarn's Royal Llama Silk
. It has such a soft velvety texture that I'm really going to have to make that my first purchase of my next stash enhancement expedition.
Anyway...as I've mentioned before I've been knitting like crazy! I started on the
Fetching
pattern a couple of days ago, finished one glove and then started working on the second on Thursday night.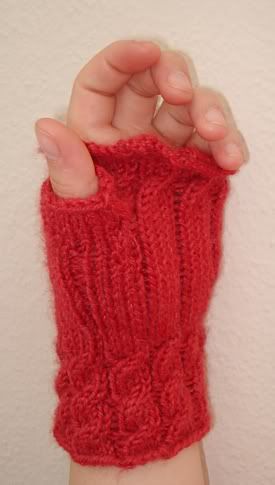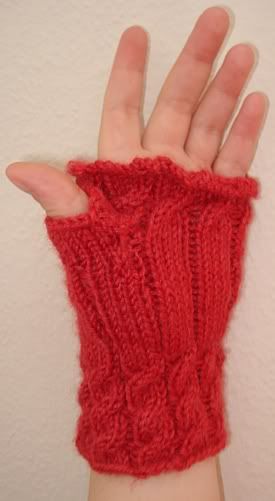 It was both my first cabled project and my first glove-ish / fingerless mitt and all in all I think it came out pretty good. I did something funky with the thumb, but I'm not sure what so hopefully I don't make the same mistake on the second one. So far, I only have a little bit done because well, after knitting up a storm I took a break to sit in my air-conditioned room and basically be lazy, but here's the beginnings of the second one.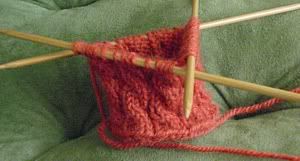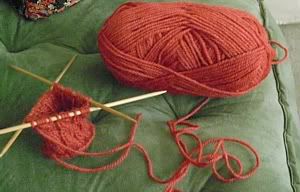 My SIL Pam suggested I knit it up in Plymouth's Encore, so I took her at her word and sure enough, the finished glove is soft and warm without being overbearingly so. I think the next pair I knit for myself however might have to be in some of that Royal Llama Silk, I love that stuff that much! Maybe as a splurge before the Xmas season gets fully under way, who knows?
I'm one of those knitters that actually likes having more than one project going at the same time so after I got bored with knitting the Fetching pattern, I picked up a copy of
Interweave Knits
and started a pair of the Motorcycle Chica gloves. So far I've only gotten as far as the first twenty-eight rows because then the pattern calls for something a bit confusing to me so I have to figure it out. I'll probably get it eventually I just don't get what they mean by backward-loop CO stitches over the 'gap'. What gap are they talking about? I have no frickin' clue.I also started the
Branching Out
scarf pattern in some of Lion Brand's Microspun (Leaf Color). I was surprised that this yarn is really very nice to work with, feeling kind of like Plymouth's Royal Bamboo (if you've ever worked with it, you'd know it's super soft, super silky and tends to split pretty damn easily if you're not careful but it's generally worth the trouble just to be wearing something made of it). I was going to use some lace-weight stuff that I bought off of knit-picks but the yarn was too thin, I thought, to properly show stitch definition and that's what I wanted to have was some definition. Anyway, here's a couple of pics.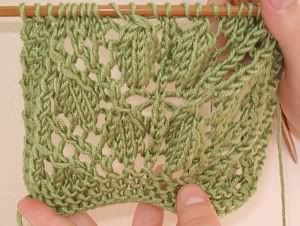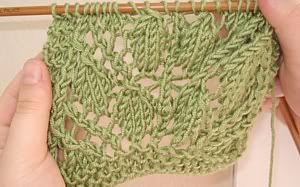 I think it'll drape nicely when it's blocked and stuff. :)
Okay, it's too hot in this room so I think I'm about to head back up to the aforementioned air-conditioned room. But before I go, I just wanted to say thank you to Knittymuggins for allowing me to join in on the fun of the
Sexy Knitter's Club
! I can't wait to get started in on the next KAL! Now, if only I could figure out how to put stuff in my side bar so I can have that nifty little button provided on the site displayed ever-so-proudly! :) Anyway, now I'm serious! Too hot to knit, which actually makes me kind of sad...thank goodness for AC!