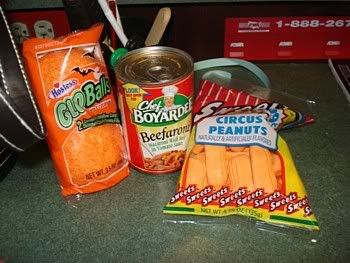 Reason #158 why work is bad, bad, bad for me. What the other 157 reasons are, well, I can't tell ya, but I'm absolutely positive that the above is in it's correct place on the list. Sure, I'll bitch about my ass getting wider, but not until after that bag of fat-free (but sugar-loaded) Circus Peanuts is empty. I don't even know why I like Circus Peanuts. I mean, think about it, they're not really peanut-flavored and they certainly weren't bought while on a fun trip to the circus...but they're sweet and well, I'll blame it on my mother since she used to feed us all kinds of old-fashioned, "old folks" candies growing up. :)
Ah...it's been an incredibly busy, busy week or so, but at last I finally seem to be able to actually sit down (for a little while anyway) and tap away on this damned keyboard! Flash back to last Saturday - Rhinebeck. The greatest yarn-gasm of all time...or at least it will remain as such until I find a BIGGER wool festival to go to. Hoo boy, I'm just lucky I only brought cash because otherwise, I'd pretty much be a starving fiber artist for the next year or so...just until I got caught up with my bills. ^_^ You know how it is. A big place just loaded with all kinds of fabulous, woolly wonders. It just kind of sucked because the shopping was semi-rushed. I went on a Yarn Safaris day trip, and as nice as it was to be surrounded by all those fantastic knitterly women, we were late leaving the bus station, late arriving at the fest...but somehow managed to leave the fest right on time. Boo. And on top of that, I missed the Ravelry meet up while there AND got screwed out of the after party because of that damned bus. Will I be taking the Yarn Safaris trip again? Probably not. I think next year we're planning on staying over night to get maximum spendability...which means I'd better start saving in January. After all, I plan on making my rather modest haul from this year look like a tiny insignificant smudge next year. :)
Anyway, on to the pictures!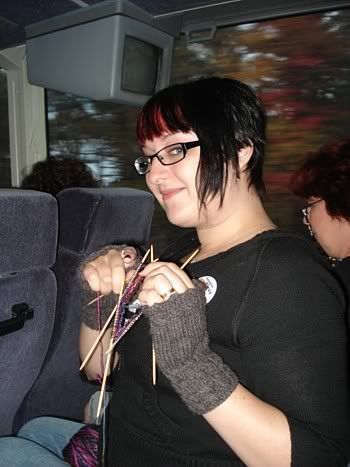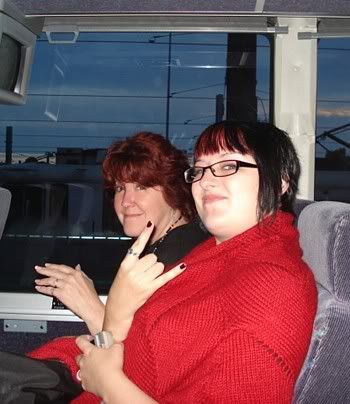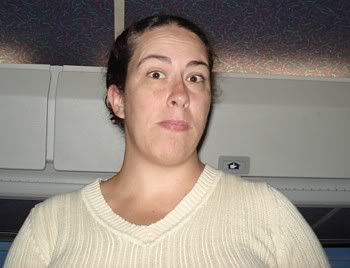 Here we are, all on the bus at a positively unGodly hour in hopes of getting to the festival in enough to time to spend our hard earned cash on gorgeous, yummy fiber! Up top, you'll see my SIL
Pam
knitting maniacally away. Then, it's Pam again, with my MIL sitting right next to her and finally we have my OTHER SIL Allison, looking surprise because I sorta snapped the picture without fair warning. I know, I know...I'm naughty. The bus leaves the station at about 8 a.m...late, but at least we're on our way!
Finally! We arrive at the festival at about 11:30 a.m (almost an hour AFTER we were supposed to be there...thanks NY for not letting busses on the park way and making us travel that hour OUT of our way). Don't we look happy to be off the bus? Actually ths picture was taken as we were leaving the festival, but well, it seemed to fit here so I just stuck it in. >:)~ After all, I don't have a picture of us happily getting off the bus only to be told that we need to wait,
again
, so the lady can go and get the tickets. Ugh...frustrations abound. It was like a knit-tease having to stand there and watch everyone else just walk right on up to the ticket place. Oh well. On to the shopping.
First stop was of course, The Fold, so we could snag some STR. And snag some I did!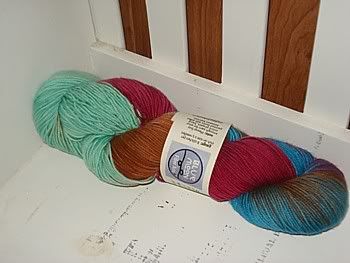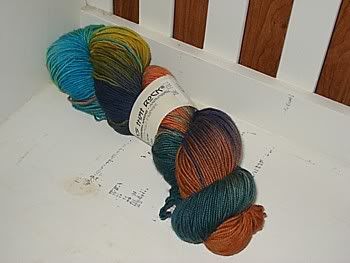 Colorways "Alina" and "Mesa"...respectively, though I'm not sure which is which. I just liked the bright, saturated hues. What can I say? I'm attracted to bright, happy colors! See?
Weehee, that's from Ancient Threads Farm...and I think it's Merino and Nylon blended together but once again I'm not sure. Anyway, I also managed to score a lovely spindle that I don't know how to use.

Some fruity smelling Merino/Tencel Roving: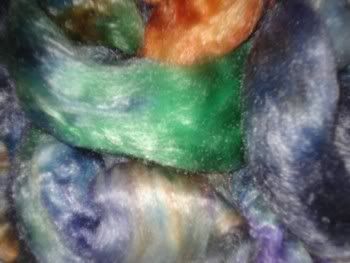 Some Merino/Tussah Silk Roving that just smells edible in a farm-y way...if you can understand what I mean there: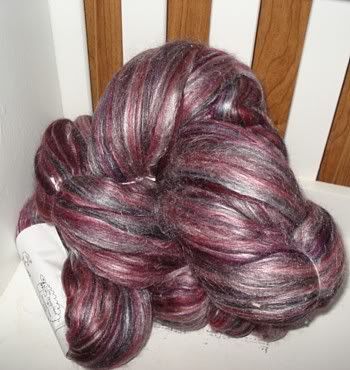 And finally, I snagged a pair of Addi Turbos and some cobweb lace-weight stuff from Skaskas Designs.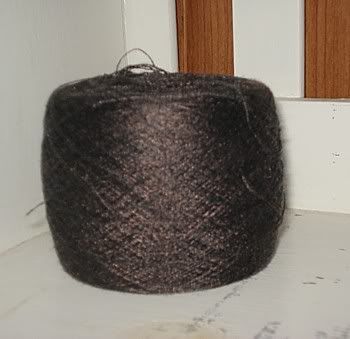 It's called Heaven, is 55% Merino and 45% Tencel, and can be found at
Yarn Place
if you really, really want some. It's soooo soft and has an absolutely gorgeous sheen!
I also saw lots and lots of fiber-making critters and enjoyed snapping pictures of this rather angry looking alpaca.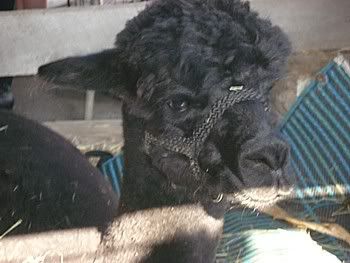 Oh and while I was there, I decided to snap a few pictures of some BFL. :)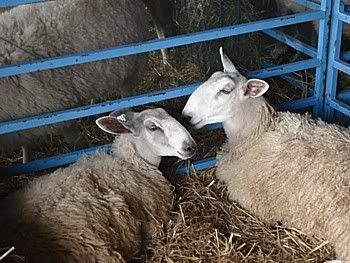 I just thought they were so frickin' cute! :) Makes me want to hug them and squeeze them and possibly take them home with me so I can let them get woolly and then shear them so I can spin the fleece...of course, there is that little matter of learning how to spin, right? Heh.
Anyhow, after all that fiber frenzy, I went home, and passed out for nearly 18 hours and then had to work the rest of the weekend, which kind of sucked...but at least I got to eat yummy junk-food and such. Oh! That reminds me, I didn't really have too much to show off at Rhinebeck knitwear wise, but I did knit these Fetching two days before the festival in hopes that it'd be cold enough to wear them. Of course...it wasn't, but still, I had them just in case! :)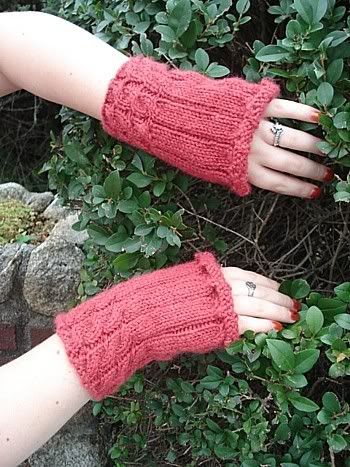 They're actually the second pair I've made, but I don't have a picture of the first considering I gave them away as a kind of belated Xmas present. Still, they did look the same considering I made the first pair with the exact same yarn. Actually, I made both pairs from the same ball of yarn (Plymouth Encore Worste), which is cool. Aaaand...I finally finished my Dashing...or rather I finally took pictures of the finished Dashing. Hehehe.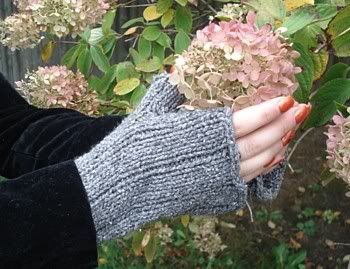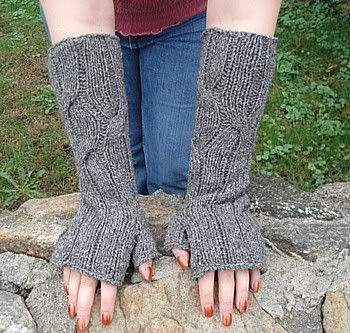 Of course, as soon as I took the damned things off again, the wifey snatched 'em right up and put 'em back on. I swear, she's been wearing those things all the time, even when she's indoors. She calls them her "video-gaming gloves". Prevents the "Joy Stick Chill". She's so cute!
OH! You know how sometimes you knit something and then don't feel like seaming it when it's finished so you just kind of stick it in one of your totes and forget about it for a while? Well, last year I started knitting yet another Romantic Ruffles Purse, but once it was done I just kind of neglected to finish it. I'd actually thought I might have thrown it away, but sometime this past week I re-discovered it!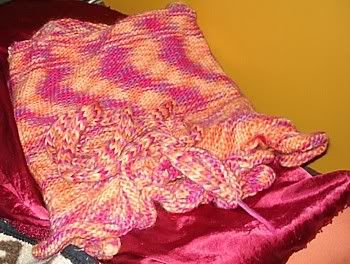 Excuse the semi-messy room, but I wanted to snap a quick pic of it before I felted it. It's kinda scary looking just lying there, but once it was felted it came out gorgeous!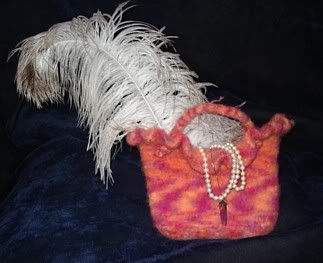 I think I'm going to give it to my Auntie Sharon for Xmas. Awesome! Isn't it great when you just "find" UFO's and realizing that they're really not *that* unfinished? I was thrilled!
Damn it. Now the suckage is about to re-commence. I. Must.Work.
Boo.
Oh well, at least I'll be able to get more knitting done!